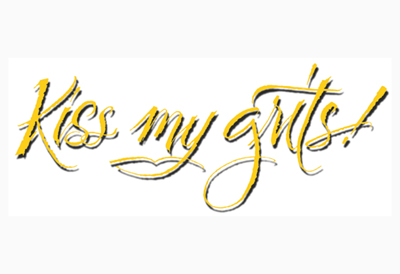 Playful rendering of popular grits quote. One of a series of quotes pertaining to food and hospitality lettered on a client's wall.
Beginning Calligraphy/Italics – April 1 — May 6, 2009
Michael teaches a 6-session course on 'Italics', (the most popular style in calligraphy) at the Spruill Center for the Arts on Wednesdays from 4/1/09 thru 5/6/09. Times are at 10am & 6:30pm.
Contact the Spruill Center, 770-394-3447 or www.spruillarts.org
Calligraphy II – March 31, 2009 – May 5, 2009
Continuing study to polish the Italic hand, with advanced exercises and assignments. Various projects utilized and the use of illumination to enhance the page is introduced.
Prerequisite: Beginning Calligraphy or knowledge of the Italic hand.
Copperplate – March 31, 2009 – May 5, 2009
Michael teaches the esentials of this beautiful and elegant hand on Tuesday evenings 3/31/09 thru 5/5/09 at 6:30pm at Spruill Center for the Arts.
Contact the Spruill Center at 770-394-3447 or www.spruillarts.org